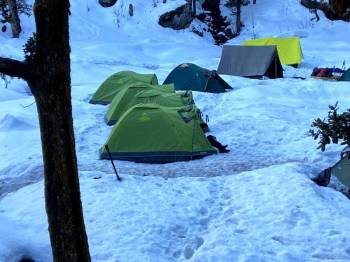 Trekkers wake up to a mesmerizing sunrise and can bask in the pure energies of the sun. It is a wonderful experience and a great start to a much adventurous day. A filling breakfast is served and trekkers prepare to go further up. The trekkers will now hike up to an altitude of 11,250 ft to 12,500 ft; to reach the Kedarkantha peak. The aim for the day is to trek and conquer the Kedarkantha peak and return back to Hargaon base camp which is located at 8900ft. The entire journey is 6km and can take upto 7 hours.
There are several tracks which lead to the peak but we opt for the main trail as it is more even and convenient. On this track too we cross several oak forests. The trek is easy and fast but as we get closer to the peak, it can get a little strenuous owing to the high altitude and steep climb. However, the vista that awaits at the peak is worth the efforts. The panoramic view of the snow clad peaks of Uttrakhand is magical. There is a temple on the hill top dedicated to Lord Parvati and Shiva and has a shrine of Lord Ganesha too. One can revel in the beauty of nature and experience the spiritual energies of the place altogether. One can enjoy some quality time here until noon, after which we descend towards the Hargaon base camp.
We cross similar scenes of oak, pine and maple forests; shepherd huts and frozen streams. Savouring all this we descend to the base camp. On reaching the campsite, once again the tents are set and campfires are lit. Everyone enjoys dinner and discuss the amazing journey that it has been up till now, as everyone on the trek has developed closer and stronger bonds.